Vinegar has some great household uses such as relieving a bee sting, getting out stains, and my personal favorite…Easter Egg Coloring!!! (See a full list HERE)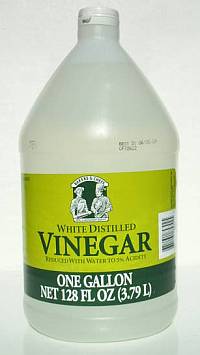 In the last post I did about My Wash Routine and What's in Your Water? , some of you awesome readers left comments about using Vinegar in your wash routines! I had heard this before but wanted to do a little more investigating into it. Of course, me being the by-the-book, direction-following kinda gal that I am, I haven't wanted to try it because of the following I found on the Flip Manufacturer's website…
The majority of My Cloth Diaper Stash is Flip Hybrid Diapers. There are some great uses for vinegar in cleaning diapers. Below I listed some thoughts, pro's, and con's
Pro's:
Vinegar will act as a Natural Fabric Softener and Cling Reducer

It helps to reduce the "stank" in your diapers by neutralizing the smell of urine

Helps to reduce soapy or filmy build up on the diapers by breaking up the detergent

Has antimicrobial and antifungal properties to it

Vinegar helps to prevent/reduce stains

Cheap solution to odor problems
Con's:
If you have hard water, the vinegar may bind with the minerals in the hard water to produce a really, really bad smell!! You may then have to strip the diapers!

Should not be used on diaper covers, as the vinegar may bind to the covers leaving them stinky and decreasing the usability!! (is this a word? ha ha)

Most manufacturer's do not recommend using Vinegar
If I want to use vinegar, how should it be used?
Remember to use straight white distilled vinegar! Not red, apple cider, or balsamic vinegar! I would hate to see what happens!!

Use no more than 1/4 cup during the first rinse cycle of your Hot Wash to help get the left over soap or detergent out of the diapers. You may find that you need more depending on your particular situation. Do what works best for you.

Be sure not to use too much, especially if you live in an area with hard water! Remember the saying "too much of a good thing."
So what do you think?
–Do you swear by using vinegar? 
–How much do you use?
–When do you add it in?