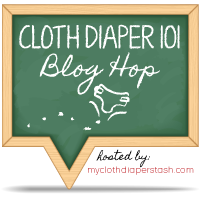 This post is part of the weekly Cloth Diaper 101 Blog Hop hosted by My Cloth Diaper Stash. This weeks topic is about….or something to that effect.
Jan 4  How and Why I started Cloth Diapering
Jan 11 – My Favorite Cloth Diaper (s) and Why?
Jan 18 – My Cloth Diaper Wash Routine
Jan 25 – Converting a Friend to Cloth (how, why, your experiences, goals, tips, etc)
Here I am about 1 year into cloth diapering and I have decided to turn to the dark side! I am no longer going to use my "cloth diaper safe" detergent…well I will use up what I have and then make the switch to the Original Tide! 
So how did I get here?
Rewind a few months ago…I went to go see my Stash Sister, who you can read all about –> HERE. Instead of bring my detergent with me because I didn't want to get caught in airport security for having possession of a mysterious "white powder," I decided to buy some detergent while I was visiting. The only detergent I found that I had heard people used before on their cloth diapers was the Original Tide in Powder form. I figured I would give it a try.
I LOVED the results! It seemed to get my diapers very clean and they even smelled great! From then on I was hooked!
Let's get to the specifics of my Wash Routine
For me, my wash routine starts with the FIRST DIRTY DIAPER! Here is a step by step list of what I do:
Dirty diaper gets sprayed down (if poop) and put into a dry pail with a pail liner.
After about 2-3 days worth of dirty diapers (SEE BELOW), I play Santa Clause and head down to the laundry room.
***ADD IN STEP*** Rinse Cloth Diapers by hand in cold water.
Add cloth diapers to washer and do a COLD RINSE with NO DETERGENT.
After 1st Rinse, Run a HOT WASH with DETERGENT.
Follow this up with a HOT or WARM RINSE.
Drying Tips
In Cold/Rainy Weather – hang dry covers and pockets and throw the inserts into my dryer on low with some dryer balls
In Spring/Summer – hang everything out in the sun 
Sunning helps with the stains!
Factors Affecting the Number of Times You Wash per Week
The number of babies you have in cloth diapers
The number of diapers in your stash (Tips for Increasing Your Stash)
The access to a washer/dryer or way to wash your cloth diapers
The stage of your baby (newborn vs. toddler)
***ADD IN STEP***
At about 1 year old, my son's urine seemed to become stronger and I had a hard time getting the ammonia stink out. I decided to do a little rinsing of my own to see if it helped with the smell. After a few washes, it seemed to do the trick! I rinse the diapers until they run mostly clear, I know this may be overkill, but I don't want to test the water if you know what I mean!
So…
That is pretty much it! I am blessed to have a great wash routine that has needed very little tweaking. I know that "the wash routine" for many can be the biggest challenge with cloth diapers! Some people have a hard time with hard water, detergent types, or even stripping methods. Tide will not work for everyone. Some babies experience rashes from Tide because it does have additives it. If you are worried about sensitivities please do you research as to which detergent might be the best brand for your family. I am by no means promoting that everyone use Tide, it is what works for me and I am pleased with the results!
If you need more help with developing your own wash routine, go HERE for a list of articles!
What does your Cloth Diaper Wash Routine look like?
Do you have any problems with your Wash Routine?